Meet Our Pastor
Rev. Dr. R. L. White, Jr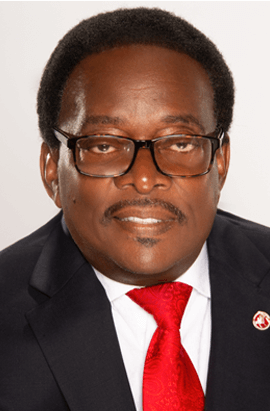 Pastor White strongly believes that one can never learn enough. He graduated (with honors) in May of 1996 from the Interdenominational Theological Center (ITC), earning a Doctorate of Ministry Degree.
Dr. R. L. White, Jr. is one who adheres to the voice of the Lord; and because of this, he is the successful Pastor and Founder of the Mount Ephraim Baptist Church. The word "Ephraim" means doubly fruitful and truly Mount Ephraim has been doubly blessed through the administration and leadership of Dr. White. He is an anointed, spirit-filled servant for the Lord who relentlessly works to spread God's word across the country and abroad. Other academic achievements include: a Master of Divinity Degree from the Morehouse School of Religion at ITC in 1987, an Associate Degree at Atlanta Junior College and a Bachelor of Ministry Degree from Luther Rice Seminary. In addition, Dr. White is accredited with the following awards:
Who's Who in American Jr. Colleges (1983)
Highest Grade Point average (1983)
W.E.B. Dubois Community Service Award
The I. R. Clark Preaching Award (1986)
The Union Baptist Church Scholarship (1986)
National Dean's List (1986)
NAACP Religion Excellence Award (1988)
Religion Award Concerned Black Clergy (1991)
President National Alumni Assoc. ITC (1991)
WAOK Radio – Pastor of the Year (1991)
Who's Who among Intellectuals In the World (1991)
Board of Directors – Atlanta Interfaith Broadcast '92
President – Atlanta Chapter NAACP (1997-2014)
Chieftaincy/Word Power Ministries, Inc. Installation – Tema, Ghana (2001)
NAACP Trumpet Award (2003)
MLK Gold Medallion Award (2003)
Treasurer on Board of Trustees ITC (2007)
Most recently (2015), Dr. White was recognized for his contributions to ministry as a recipient of the Global Transformers Award with Former President Jimmy Carter, Ambassador Andrew Young, Congressman John Lewis, and Bishop Desmond Tutu. The Interdenominational Theological Center (2016) also honored Dr. White for 27 years of service to the Board of Trustees.
But Jesus looked at them and said to them, "With men this is impossible, but with God all things are possible."
– Matthew 19:26 (NKJV)
Pastor R. L. White is a nationally acclaimed gospel artist who co-produced several musical projects, including, "I Shall Not Be Moved", – which was among the top 40 albums to make the National Gospel Billboard chart, "Hold On And Don't Let Go" -which was recorded during Mount Ephraim's Silver Anniversary celebration. Additional recordings include: Blest Be the Tie (1991), Change Me (2001), Angels Charge Over Me (2003), "Moving to A New Address (2006), It has Been Worth It All (2012), and Power to Overcome (2014). His most recent recording, Jesus, I'll Never Forget will be released in the Fall of 2016. A self-taught musician with tremendous musical abilities, Dr. White has become proficient on several musical instruments and loves to sing praises to the Lord. He also directs two of the church's choirs, the Inspirational Voices and the Sanctuary/Mass Choir.
In addition, he has authored several doctrinal books: Baptist Beware! (1981), Read It Right, The Bible (1983), The Preacher/Deacon Dilemma (1997), I Don't Need Counseling (1999), Determined To Be A Good Pastor, Teacher, Leader (2002), and NegroOlogy (2006).
Pastor White travels extensively to different states conducting revivals and religious meetings. In August of 1992, the city officials of Macon, Georgia set aside a special day in honor of Dr. White and declared a "Rev. R. L. White Day". He was honored with a key to the city of Macon along with many other prestigious awards and honors. He continues to be humble as he allows the Lord to use him in the upbuilding of His kingdom.
Dr. White is married to Mrs. Lorraine Jacques White. Together, they have traveled throughout the United States as well as Egypt, France, England, Germany, Canada, The Holy Land, South America, The Virgin Islands, Ghana, West Africa, The Bahamas, Aviano, Italy and Shape, Belgium. The ministry continues to grow as Dr. White reaches out to the world via the media, on radio and on television. Mount Ephraim established a school in Ghana, West Africa in 2004. There is also a church and hospital under construction.
We give thanks unto the Lord for Dr. R. L. White, as he spreads God's word to the Nation and to the World.