Founding Pastor
Rev. Dr. R. L. White, Jr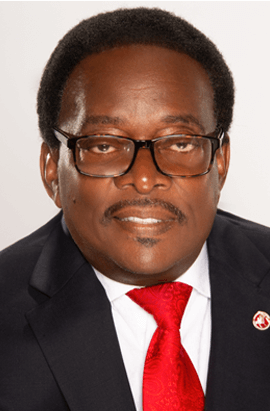 Spirit Filled Servant
Dr. R. L. White, Jr. is one who adhered to the voice of the Lord; and because of this, founded Mount Ephraim Baptist Church in June 1970. The word "Ephraim" means doubly fruitful and truly Mount Ephraim was blessed during the 53 years of his administration and leadership. He was an anointed, spirit-filled servant for the Lord who worked relentlessly to spread God's word across the country and abroad through revivals and religious meetings.
Learner and Author
An alumnus of Interdenominational Theological Center (ITC), Pastor White strongly believed that one can never learn enough.
Academic achievements include: a Master of Divinity Degree from the Morehouse School of Religion at ITC in 1987, an Associate Degree from Atlanta Junior College and a Bachelor of Ministry Degree from Luther Rice Seminary and numerous other awards
He authored several doctrinal books: Baptist Beware! (1981), Read It Right, The Bible (1983), The Preacher/Deacon Dilemma (1997), I Don't Need Counseling (1999), Determined To Be A Good Pastor, Teacher, Leader (2002), and NegroOlogy (2006)
Global Transformer and Civic Responsibility
Dr. White was recognized for his contributions to ministry having received the Global Transformers Award and was honored by the ITC for 27 years of service to the Board of Trustees. Serving the community was very close to heart serving as President – Atlanta Chapter NAACP for 17 years.  The community loved Dr. White in return by celebrating him with many awards and recognitions such as NAACP Trumpet Award, NAACP Religion Excellence Award and WAOK Pastor of the Year to name a few.
Gospel Artist
Dr. White loved to sing praises to the Lord and was a self-taught musician. He was a nationally acclaimed gospel artist who co-produced several musical projects, including, "I Shall Not Be Moved", – which was among the top 40 albums to make the National Gospel Billboard chart.  
Dr. White leaves to cherish his memories, Evangelist Lorraine White.
But Jesus looked at them and said to them, "With men this is impossible, but with God all things are possible."
– Matthew 19:26 (NKJV)